Accessible Wheelchair Lifts
A vertical platform or porch lift provides an attractive and practical solution for making your home accessible for a wheelchair user. Alternatively, installing a ramp necessitates large amounts of time and money to build and uses more space than the simple and inexpensive wheelchair lift. When installed indoors a Wheelchair Lift offers an affordable alternative to residential elevators.
Visit us at our new site:
FreedomLiftSystems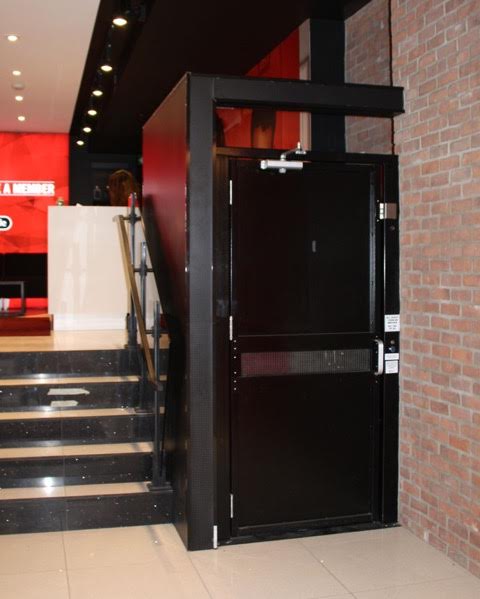 If you have difficulty using stairs, or use a wheelchair or mobility scooter, then installing a Wheelchair Lift is a great way to ensure safely and convenience every time you enter and exit your home. Vertical platform lifts are used to overcome differences in height which prohibit the use of a wheelchair or scooter. A wheelchair lift can be customized to accommodate new or existing buildings with little or no modification.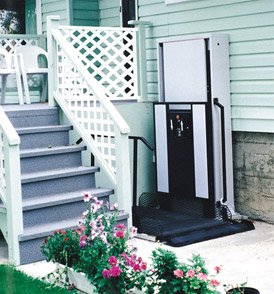 The Trus-T-Lift system can be installed indoors or outdoors (i.e. as a porch lift) and is designed to be completely resistant to the harshest weather conditions.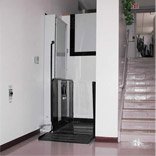 Our wheelchair accessible vertical platform lifts are easily installed and have a lifting range from 28" up to as much as 5 feet (60"). The Trus-T-Lift system is installed worldwide and is an economical way to offer home / building accessibility. Once the wheelchair platform lift system is assembled the installation consists of placing the unit where you want it, securing it, and plugging it in to a standard power outlet. Some assembly required see installation in 30 minutes video at bottom of this page) Trus-T-Lift's smooth and quiet performance makes this light weight, dependable and versatile unit perfect for many applications.
---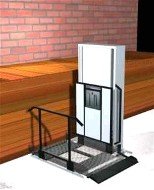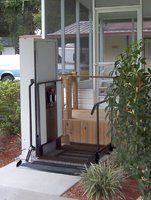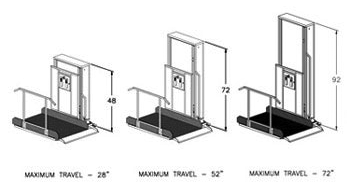 Residential Wheelchair Porch Lifts
The Residential Trus-T-Lift system was designed for home use and offers an inexpensive means for providing entry into your house or apartment. It's easy to operate easy to install and almost maintenance free. Safety features include a non-slip low platform for easy roll-on/roll-off, safety barrier, a 36" railing, and constant pressure switches. The sturdy engineering enables lifting and lowering up to 750 pounds accommodating both electric wheelchairs and scooters. The lifts are completely weatherized and attractively finished in a durable off-white finish. The Residential Porch Lifts come in 28" and 52" Models, depending on required vertical lift height. Residential Vertical Platform lifts are very economical with prices starting at $3,684, not including shipping or installation.
Specifications - Residential Porch Lifts

Installation Manual - Residential

(required to view spec sheets and manuals)

View Video
Vertical Platform Lift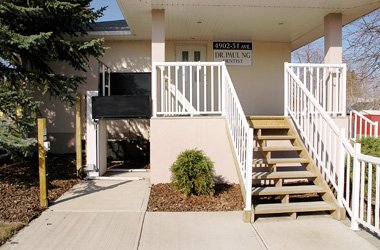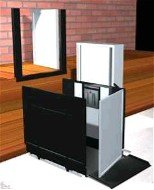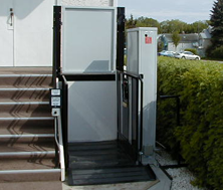 Commercial Wheelchair Lifts
Installing the Commercial Trus-T-Lift system is simple, smooth and easy. Our commercial wheelchair lifts have been manufactured for over 20 years and have national and international experience ensuring our Commercial Trus-T-Lift systems to meet your local code requirements. The codes can be confusing with over 9 different national codes. Each state (and some municipalities) follows 1 of the 9 national codes and will often make changes and/or additions to it. In addition, individual elevator inspectors may have their own requirements for a particular installation. In most of the country the lift must be installed by a licensed elevator installer, however is some areas a license in not required. We can help you have a successful project. Gather information on the project such as building address, lifting height and lift configuration, local building /elevator department code requirements, and get a copy of the building plans. Send us this information and we can provide you with a quotation and installation drawings for the building inspector. The Commercial Trus-T-Lift system starts at $8,090 not including shipping or installation.

View Video
Vertical Platform Lift
---
Portable Wheelchair Lifts
The Portable Trus-T-Lift system is on high grade casters that make it easy to move from one location to the next. These high grade casters have a foot activated locking position to prevent the lift from moving once you have it into position. This units low cost and ease of installation make it ideal for commercial applications. Another key benefit is that the portable units are exempt from the ASME 18.1 standards making them a very economical way to offer wheelchair access to heights up to 52". The portable vertical platform lift has a maximum lifting height of 52" and can lift up to 550 lbs. The Portable Trus-T-Lift system is an institutional quality wheelchair lift. Expanded metal construction of makes the lift easy to move and allowing the operator to see under the lift, making operation even safer. Portable Vertical Platform lifts are very economical with prices starting at $5,598, not including shipping or installation.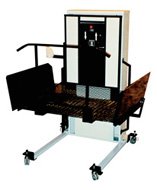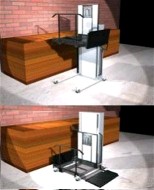 Specifications - Portable Lift

Installation Manual - Portable

 View Video
Portable Platform Lift Installation
---

Call 1-877-947-7769
Call now to speak with a customer service representative.
All Trus-T-Lift systems Feature
Innovative Soft Touch Control Pads for Ease of Operation All weather design for outdoor installations Easy to install 750 lb capacity (except portable lift) Large platform with non-skid surface Reliable Direct drive Worm-Gear / Screw-Nut Drive
8 feet/minute lift speed Automatic folding entry and exit ramps Minimal maintenance Prewired to use standard 110V/15A power Emergency manual operational U.L. and C.S.A. Certified
Options
Under carriage safety plate Carriage and Landing gates Solid hand rail and solid end walls
Fully operational 12V DC battery back-up Custom finishes
Our Accessible Wheelchair Lift meets National Standards, however it is very important to check State and Local code requirements to ensure compliance. All State and local compliance is the responsibility of the purchaser. The Trus-T-Lift elevator requires a solid, smooth, and level mounting surface with an area of 60" x 66" or (66" x 66" for an adjacent style lift). We recommend a 6' x 6' concrete pad with a minimum 4" thickness. Ensure the toe plate will land on a solid surface, this will require an addition 12" to 20" on the entrance side of the lift. The mounting surface must be solid enough to support the lift and it's maximum rated load (1080 lbs for the basic lift). A solid wood or concrete deck would be an acceptable mounting surface. Note: Four 3/8" x 2 3/4" concrete wedge anchors are shipped with each lift. A 110 VAC 15A electrical receptacle is required within 6 feet of the tower side of the lift. All lifts over 52" in travel should be secured to the building for additional support.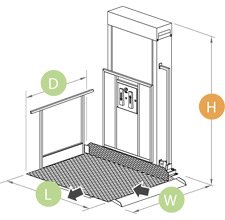 Adjacent Access
L - Deck Length - 54"
D - Deck Width - 40"
W - Total Width - 54"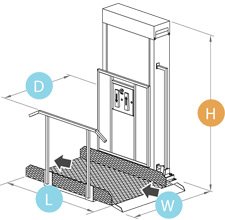 Straight Through Access
L - Deck Length - 54"
D - Deck Width - 34"
W - Total Width - 48"
Get more details:
FreedomLiftSystems

© 2019 info@accessibilitypro.com | Privacy Policy
Call Us Toll Free: 1-877-947-7769